Chef's First Mate
Take Control Of Your Kitchen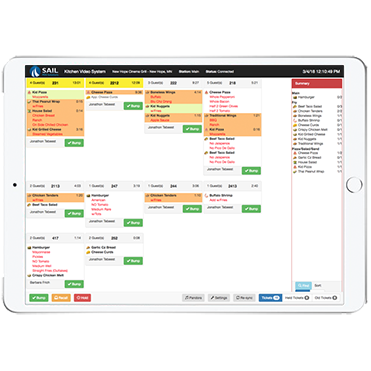 Take control of your kitchen with our industry-leading Kitchen Video System. Not only is it completely web-based allowing you to run on a variety of inexpensive hardware, including tablets, but it is included at no additional charge with your subscription. Making it not only one of the best, but the most affordable, KVS on the market.
Our KVS Solution offers 3-distinct views.
Wheel - The command station for your kitchen to monitor and control ticket timing for all stations, including itself as a station


Stations - Give each station a "to-do" list of food to prepare, with estimated cooking times and status being sent back to the Wheel


Expo - Your expediting staff will be informed of all tickets being prepared, will be notified when they are complete and can mark off items sent to table early.
Features
Control timing of tickets by sending items to their designates stations
See timing of each ticket and each item being prepared
Color coding gives quick visual representation of the status of each item being prepared
Summary screen gives quick "All Day" counts of items
Audible indicator of new ticket
Advantages
Enhance the efficinency of your kitchen staff by allowing them easily manage tickets across many stations.
Staff can continually keep track of ticket times including color indicators as tickets age.
System Requirements
Wheel or Expo:

Minimum Intel Core 2 Duo or Intel i3
Wide Format Touchscreen
(1920x1080 resolution recommended)
OR 12.9" iPad Pro

Stations:

Any 9.7" iPad recommended